Now you can search the library catalog directly from the Find Books, Articles, and More page using the search bar featured here in this screenshot.  

Buttercup, MLIS's Bookcover Feature 
This unprepossessing cover conceals an amazing treatise on approaching different writing fluencies (such as constructional, pragmatic, narrative), and handling other techniques such as repetition, figurative language, and surprise. Huck takes the analysis of writing to the level of linguistics and cognitive science, a lens sure to grab all guinea pigs' attentions.
And… The library will be open this Saturday from 10-2!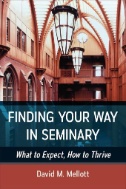 Weekly eBook Feature from Amanda Ross:  Finding Your Way in Seminary: What to Expect, How to Thrive by David M. Mellott 'Those considering seminary, those in seminary, and those preparing to graduate from seminary need help. They need help discerning their call, moving into the bewildering world of theological study, and balancing the competing claims of school, work, and family. This book proposes to offer that help, and more, because the seminary eperience is evolving more rapidly than at any time in its history.This book is an ideal textbook for introductory seminary or spiritual formation courses that the majority of seminaries now require of first-year students. The three sections of this book provide information and guidance to those who are discerning a call to ministry and considering theological education; introduces new seminarians to thinking theologically, forming supportive relationships, integrating what they are learning in school with their spiritual lives, and practical guidance on such matters is serving a local congregation while one is in seminary; and offers advice on negotiating the ordination process in different denominational traditions and making the transition from study to full-time ministry.' Synopsis from the publisher. Access the eBook from the library catalog here.
Weekly Journal Feature from Katherine Casey
This week the featured journal is Interpretation: A Journal of Bible and Theology, published quarterly. It is affiliated with Union Presbyterian Seminary, Richmond VA. It is indexed by ATLA Religion Database with ATLA Serials, and full text access is available from 1948 to the present. Additionally,  Phillips Library has physical holdings from 1948 to the present.
Each issue is themed, and the current issue theme (April 2017) is The Book of Daniel, with articles that explore archaeology, as well as issues of power and subordination. Some article titles from the issue are "Builders of Ancient Babylon: Nabopolassar and Nebuchadnezzar II," which explores the building activity of Nebuchadnezzar; and "Daniel as an Americanized Apocalypse," which explores the book of Daniel as "an example of anti-imperial resistance literature."
Looking back at the past few years of publication, issue themes demonstrate wide and thoughtful range. Some of the more recent issue themes are:
Hagar and Ishmael (68:3 July 2014)
Trauma and Faith (69:1 January 2015)
The Theology of Food (67:4 October 2013)
Science and Christian Eschatology (70:1 January 2016)
Laughter as Resistance (69:2 April 2015)
The Gospel of Mark (70:2 April 2016)